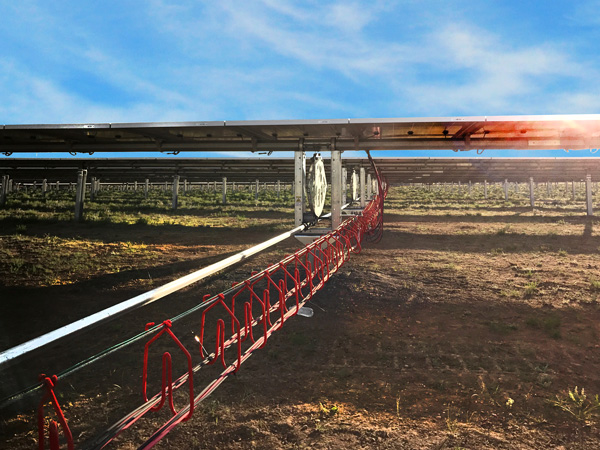 CAB is pleased to announce development of a new Cable Management System with Integrated Grounding that reduces labor and material costs for large scale ground-mount solar power projects.
CAB's Cable Management System has gained wide attention and acceptance because it is quick and easy to install and provides much lower and more predictable costs than cable tray or trenching. It also allows for standardization of cable management across an entire portfolio of projects, which greatly reduces engineering costs. Since 2014, CAB's innovative Solar Cable Management System has been installed in over 3 GW of solar power plants in four countries.
CAB's new patent pending system with integrated grounding utilizes a specially designed copper composite messenger wire that provides structural support for the cable management system while providing sufficient ampacity for fault current duty. Using a messenger wire for a grounding conductor is fully permitted by the NEC. CAB's custom designed messenger wire and grounding hardware components provide both the Equipment Grounding Conductor (EGC) and the Grounding Electrode Conductor (GEC).
CAB's Solar Cable Hangers are ETL Safety Listed by Intertek to UL 2239, UL 1565, CAN/CSA C22.2 No. 18.4-15 and CAN/CSA C22.2 No. 18.5-13. CAB's new integrated grounding hardware and components have the UL Certificate of Compliance to Standard 467, Grounding and Bonding Equipment. CAB also offers a comprehensive Electrical Report on the Grounded System conducted by HDR Engineering Inc. which covers cable requirements, hardware requirements and code compliance.
The new CAB Cabling System lowers cost by eliminating the need to install a separate grounding conductor on the cabling system and installing individual jumpers from the grounding conductor to each mid pier in the solar array. The most important savings are for reduced electrical labor and material but there are also savings in purchasing, shipping, staging and handling.
CAB's new patent pending Cable Management System has generated a great deal of interest in the solar industry, and this innovative development will help to make solar power more competitive in the future. For additional information please Contact Us or call 814-472-5077.