CAB Hooks and Hangers are used in the most demanding above and below ground applications around the globe. From oil pipelines on Alaska's North Slope to underground mines in Australia to chemical plants on the Gulf Coast, CAB has earned a reputation for manufacturing strong, durable cable support products. For over 40 years, electrical engineers have specified CAB hangers in the most demanding and corrosive environments around the world.
CAB manufactures thousands of varieties of cable support products. Many are custom made to the specifications of the customer or engineering company. Pictured below are just several varieties of CAB hangers that have proven popular with customers over the years. All CAB Hangers are available in any size desired for your project. Click here to request more information or obtain free samples.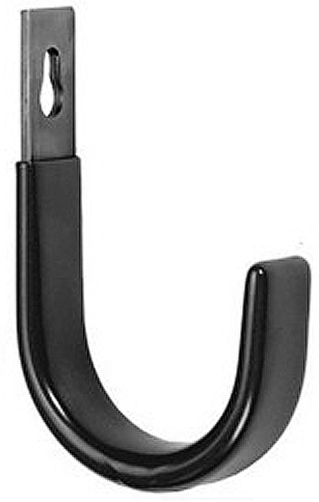 CAB #9107 J-Hook
UV Rated Coating
CAB #7338 Heavy-Duty Jumbo S-Hook
CAB #931 Flat Wire Cable Clip

CAB #6556 Cable Ring and Saddle
CAB's bright orange Plastisol coating has been a trademark of CAB quality over the years. The coating is high dielectric grade, flame retardant and extremely resistant to corrosion. CAB's dark gray plastisol coating has the same high performance properties, but is UV stabilized for all outdoor applications.
Custom Hangers are a specialty at CAB. For more information on any hanger or cable support product, please contact us at the link below. We will be happy to work with you on custom designs, drawings and samples at no charge.