CAB Solar Cable Management
Proven Performance for over 45 Years in Above Ground Cable Management for the Electrical Industry. Now with Durable, Cost Effective Integrated Grounding Option.

CAB Solar Cable Management delivers safe, strong and durable support
for all types of wiring in utility scale, ground-mount solar power plants.
CAB's patented cabling system has gained wide attention and acceptance because it is quick and easy to install and provides large labor and material savings on solar projects. It is far more cost effective than trenching or cable tray.
CAB's high quality multi-carrier hangers safely separate bundles of cables to meet NEC requirements. The innovative design, which incorporates a thick plastisol coating, provides a strong, tight grip of the hanger to the messenger wire. This prevents slippage or movement of hangers over the life of the project. More than 50 standard designs are available to safely support large bundles of string wires and DC feeders, as well as various AC, data or other cabling. Custom configurations are also easily manufactured to meet specific project requirements.
Standardizing Cable Management with CAB Solar helps to lower engineering costs in a developer's portfolio of projects.
In addition, it provides much more predictable costs of installation compared to trenching or cable tray. See complete list of CAB advantages in Comparison Chart below.
CAB's new Solar Cable Management
with Integrated Grounding
offers significant cost savings in:
Engineering

Installation Labor

Materials

Long Term Maintenance
CAB Integrated Grounding eliminates the need to run a separate grounding conductor and grounding jumpers to all mid piers. The patented design includes a custom engineered messenger wire, clamps and mid pier brackets. CAB's system provides both the Equipment Grounding Conductor (EGC) and the Grounding Electrode Conductor (GEC), and now includes #2 and #3 Equivalent Options. The system meets NEC and IEEE standards, and is ETL Safety listed by Intertek to UL 2703.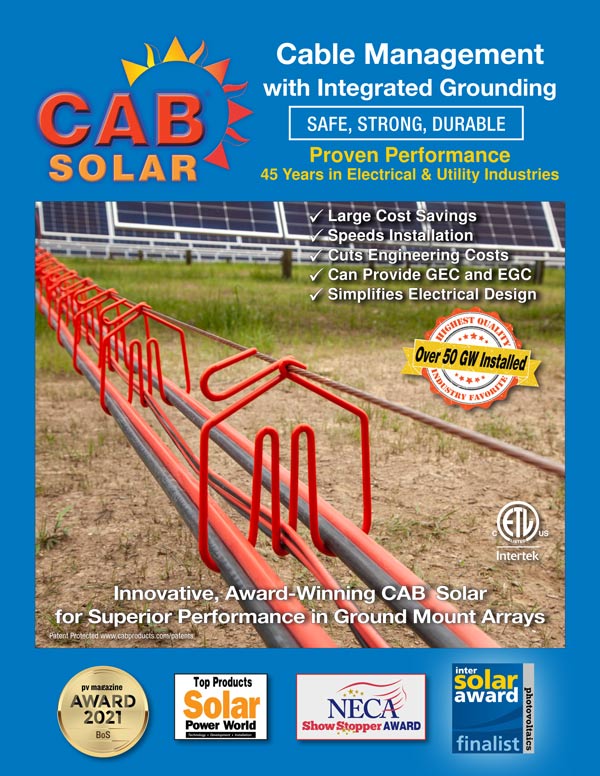 High Quality Construction
for Long Term Reliabilty and Safety
CAB Hangers are manufactured from Class 3 galvanized, high tensile strength spring steel for maximum strength and corrosion resistance.
All hangers receive a thick PVC coating that provides added safety and protection for cables. The high performance coating is applied on 100% of the surface which makes hangers totally insulated and durable in highly corrosive environments. The coating also makes hangers easier to handle and install which reduces installation time.
CAB's thick, heavy-duty PVC coatings are flame retardant, chemical resistant and UV stabilized for long service life.
They are also high dielectric grade with a dielectric breakdown strength of 400 volts per mil (.025mm). CAB's standard color is high-visibility orange.
CAB's Solar Cable Management System is ETL Safety Listed
to the following Safety Standards: UL 2239, UL 1565, CAN/CSA C22.2 No. 18.4-15, and C22.2 No. 18.5-13. CAB's Integrated Grounding System meets NEC and IEEE Standards per 2021 HDR Electrical Report and is ETL Safety Listed to UL 2703.
Quick and Easy Installation
CAB's Cabling System is installed by running a high strength messenger wire that is mounted to mid pier and end pier brackets in the solar array. Individual CAB hangers are then attached to the messenger wire at preset intervals. CAB's innovative design provides a strong, tight grip of the hanger to the messenger wire to prevent slippage. Cables are easily loaded in the hanger and safely separated to meet the NEC.
Over fifty standard CAB designs are offered to safely support large bundles of string wires, DC feeders, as well as AC, Data or other cabling. Custom configurations are easily manufactured to meet specific project requirements.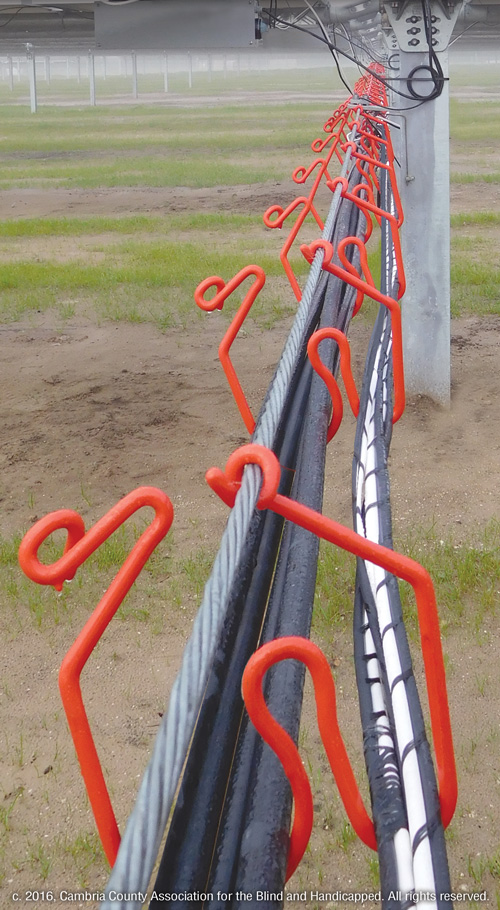 CAB Hangers (pictured above) are open and ready to receive additional cables. Once loaded, hangers are easily closed and locked in place on the messenger wire. No special tools needed. Hangers may be opened again to add cables, perform maintenance or upgrade the system.
CAB Solar is dedicated to developing innovative solutions for the solar industry. Our ongoing efforts have been recognized over the years with accolades and awards from respected industry associations and leading trade publications. These include:

CAB Solar products are manufactured by the Cambria County Association for the Blind and Handicapped in Western Pennsylvania, USA. It is an honor to be recognized by so many different experts in the solar industry worldwide. We express our gratitude to our professional staff and our employees with disabilities who have worked so hard to make CAB Solar a successful partner not only to the solar community, but also to the electrical & utility, traffic & communication, mining & tunneling, shipbuilding & marine, pipeline, custom sewing & safety industries. Thank you to all.

CAB's Torque Tube Hangers offer a sturdy long-term solution for under panel cable management. CAB Torque Tube Hangers snap on quickly and easily with no tools required. This greatly reduces labor time compared to cable ties, clips or clamps. The spiral design holds large bundles of cable safely and securely. Multi-carrier styles are available. CAB's patent protected Torque Tube Hangers simplify upgrades, maintenance and troubleshooting. Highly effective in bifacial panel projects. Custom designs are also offered.

"In summary, the use of purpose-built products like the CAB Solar Hangers for the exposed cable management in a PV array is well substantiated by the NEC and industry installation standards.
"Multiple sections, such as those in various configurations of CAB Solar Hangers, create effective separation of conductors that allow for dc, ac, and communications cables to be supported with a single hanger type.
"(The) CAB Grounding Messenger Wire can provide for equipment bonding and grounding as needed in the PV system."
– Bill Brooks, Brooks Engineering White Paper
Bill of Materials
CAB Solar Cable Management offers many options. We recommend a specific Bill of Materials for each project. Our solar staff can assist you in selecting the proper size hangers, L-brackets and messenger wire. Tim Wedding is our Solar Project Manager. Please Click Here to request his assistance, or call 814-536-3531.

CAB Solar Hangers are very effective in tracker, ballasted or fixed installations. These patented hangers have been installed worldwide in over 40 GW of solar power plants ranging from Australia to Mexico, Chile and Canada, as well as throughout the US and Hawaii. They perform in all environments from frigid cold to extreme desert heat. (Pictured CAB #9294 or 9557 PVC Coated Cable Hanger)
Solar Engineer Testimonial:
"CAB Cable Rings and Saddles offer benefits over traditional conductor routing techniques. Our field installations demonstrate that CAB Cable rings provide improved installation time and robust support for the life of the system. We find increasing benefits in layouts with a larger number of parallel conductors."
-Bill Novak, P.E., Tropenas Company, President & Chief Engineer, TN, NC, SC, GA, KY, MD, MS, AL Licensed Professional Engineer, NABCEP Certified Solar PV Installation Professional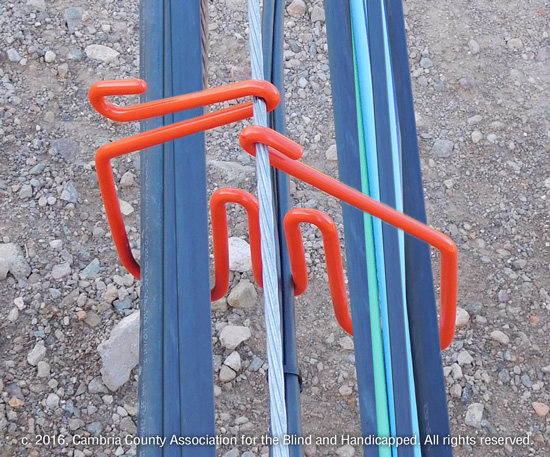 CAB's innovative multi-carrier hangers safely separate bundles of cables to meet NEC requirements.
Video above shows installation of a 1-, 2- and 3-carrier CAB Solar Cable Hanger. CAB Hangers are quick and easy to install. Cables are loaded into hangers, and then hangers are closed to lock in place on the messenger wire. Hangers can be reopened at any time in the future to add or remove cables. They are offered in a wide variety of styles and configurations.
Video below shows installation of CAB's new Torque Tube Hangers which are designed to quickly snap on torque tubes or fixed tilt structure. They are very easy to install and greatly simplify under panel cable management.