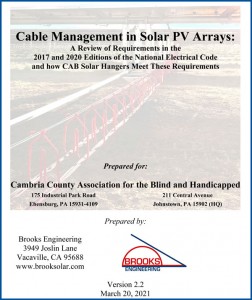 "Cable management is critical to the safety and longevity of nearly every Solar PV System. This is primarily due to the extensive use of exposed cables used in the DC PV array."
A White Paper published by Brooks Engineering reviews updated requirements of the 2021 NEC as they relate to CAB Solar Hangers and Integrated Grounding in solar PV arrays.

Click here to download and read this important White Paper.
"In summary, the use of purpose-built products like the CAB Solar Hangers for the exposed cable management in a PV array is well substantiated by the NEC and industry installation standards.
"Multiple sections, such as those in various configurations of CAB Solar Hangers, create effective separation of conductors that allow for dc, ac, and communications cables to be supported with a single hanger type.
"(The) CAB Grounding Messenger Wire can provide for equipment bonding and grounding as needed in the PV system."
-from Brooks Engineering White Paper
March 20, 2021