CAB Solar Cable Management
CAB Cable Rings and Saddles for PV Ground Mount Cable Management were selected as a Finalist for the INTERSOLAR AWARD 2014, Photovoltaics Category.
CAB Cable Rings and Saddles deliver safe, strong and durable support for all types of solar wiring. They perform as a high quality mini-cable tray system for a fraction of the cost of cable tray. They offer exceptional reliability and last much longer than cable ties, especially in demanding and corrosive environments.
CAB Cable Rings install quickly and easily for large labor savings on the job site. Each Ring installs in less than five seconds, and the innovative design provides a strong, tight grip of the Cable Ring to the messenger wire. This allows cables to be loaded and locked into place or pulled long distances quickly and easily.
For maximum strength and corrosion resistance, CAB Cable Rings and Saddles are manufactured from class 50 galvanized high tensile spring steel with a heavy 80 mil, UV rated PVC coating. This high quality construction provides a tight, secure grip of the cable ring to the messenger wire. Each hanger supports a safe working load of over 200 lb. (90kg).
CAB Cable Rings and Saddles offer significant cost savings compared to buried cables or cable tray in solar power plants. Initial material costs are much lower, plus labor costs are reduced during installation. In future years, CAB Cable Rings and Saddles offer easy access for additional wiring, troubleshooting or maintenance.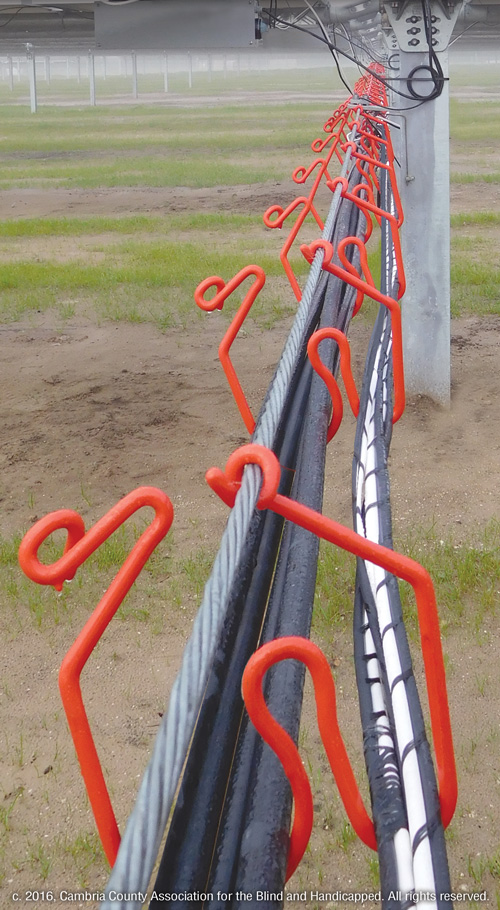 Pictured above hangers are open and ready to receive additional cables. Once loaded, hangers are easily closed and locked in place on messenger wire.

CAB Cable Rings and Saddles are quick and easy to install. Cables can be loaded into Rings, and the Rings locked into place, or cables can be pulled long distances through previously installed Rings. This makes it simple to add additional cables in the future.
CAB Cable Rings and Saddles are offered in a wide variety of styles and configurations. Contact CAB for more information.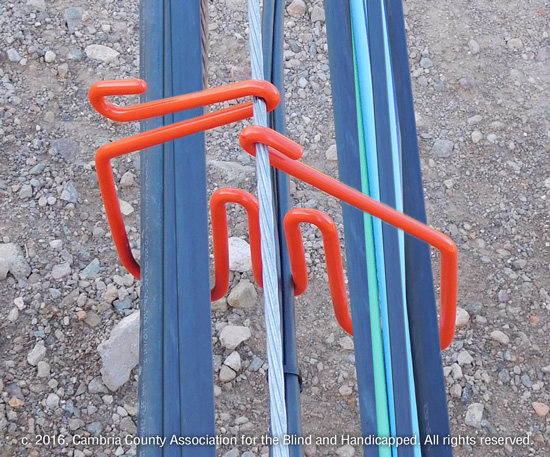 CAB's PVC coating provides maximum safety and protection for cables. It is high dielectric grade, flame retardant, UV stabilized and very abrasion resistant. CAB's heavy 80 mil (2mm) thick PVC coating has a dielectric breakdown strength of 400 volts per mil (.025mm). CAB's high performance coating is applied to 100% of the surface, which makes cable rings totally insulated, sparkproof, and extremely durable in corrosive environments.
CAB's PVC Plastisol coating virtually eliminates slippage and movement of Cable Rings after installation. This is due to the molding action of the PVC coating to the individual strands of the messenger wire within the attachment section of the Cable Ring. This improved gripping action assures uniform spacing of Rings which provides a safer cable support system.
Bill Brooks Engineering White Paper
"Cable management is critical to the safety and longevity of nearly every Solar PV System. This is primarily due to the extensive use of exposed cables in the PV array.
"Using purpose-built products like CAB Cable Rings and Saddles for exposed cable management in a PV array is well substantiated by NEC and industry installation standards.
"Multiple hanger sections, such as those in various configurations of CAB Cable Rings and Saddles, create effective separation of conductors that allow for dc, ac, and communications cables to be supported with a single ring type." – Bill Brooks, Brooks Engineering White Paper
CAB provides high quality, cost effective wire management solutions. We include here a September 2014 White Paper, published by Brooks Engineering, which reviews requirements of the 2014 updated NEC as it relates to CAB Cable Rings and Saddles.
Solar Engineer Testimonial:
"CAB Cable Rings and Saddles offer benefits over traditional conductor routing techniques.  Our field installations demonstrate that CAB Cable rings provide improved installation time and robust support for the life of the system. We find increasing benefits in layouts with a larger number of parallel conductors."    
-Bill Novak, P.E., Tropenas Company, President & Chief Engineer,
TN, NC, SC, GA, KY, MD, MS, AL Licensed Professional Engineer,
NABCEP Certified Solar PV Installation Professional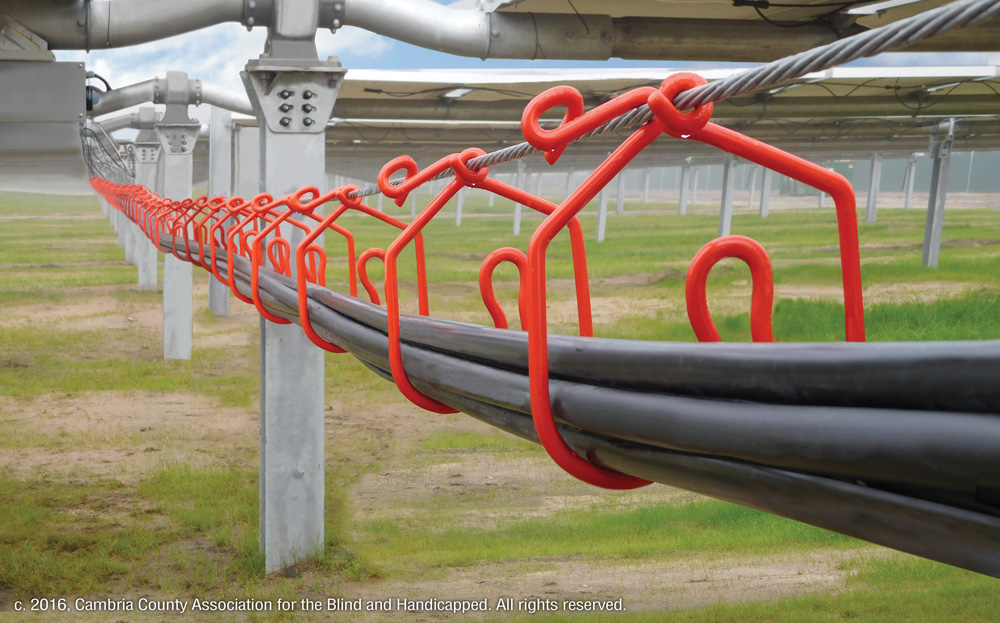 CAB Cable Rings and Saddles provide safe, strong and durable support for all types of solar power cables. (Pictured CAB #8944 PVC Coated Cable Rings and Saddles)